Overview
Healthcare scheduling generally begins with long-term labor planning and eventually proceeds to the execution of the outlined schedule within a given time-frame. Multi-View Scheduler (MVS) is a tool that aids nurses and managers in planning and scheduling staffing. This process is often difficult and time-consuming. Our team faced the task of evaluating the core product and creating a more intuitive experience.
Role:
Senior UX Designer
Company:
Hook&Loop (Infor)
Team Members:
UX Lead, UX Researcher, UX Designer, Product Manager, Development Team
Challenge
MVS had a confusing user interface; simple tasks took longer to complete than necessary. The UI was often difficult to read, and the overall structure was inconsistent and flat. Given a short amount of time, and being limited to the discovery phase, our team needed to identify the current problems with the tool, and make recommendations for best possible solutions for MVS.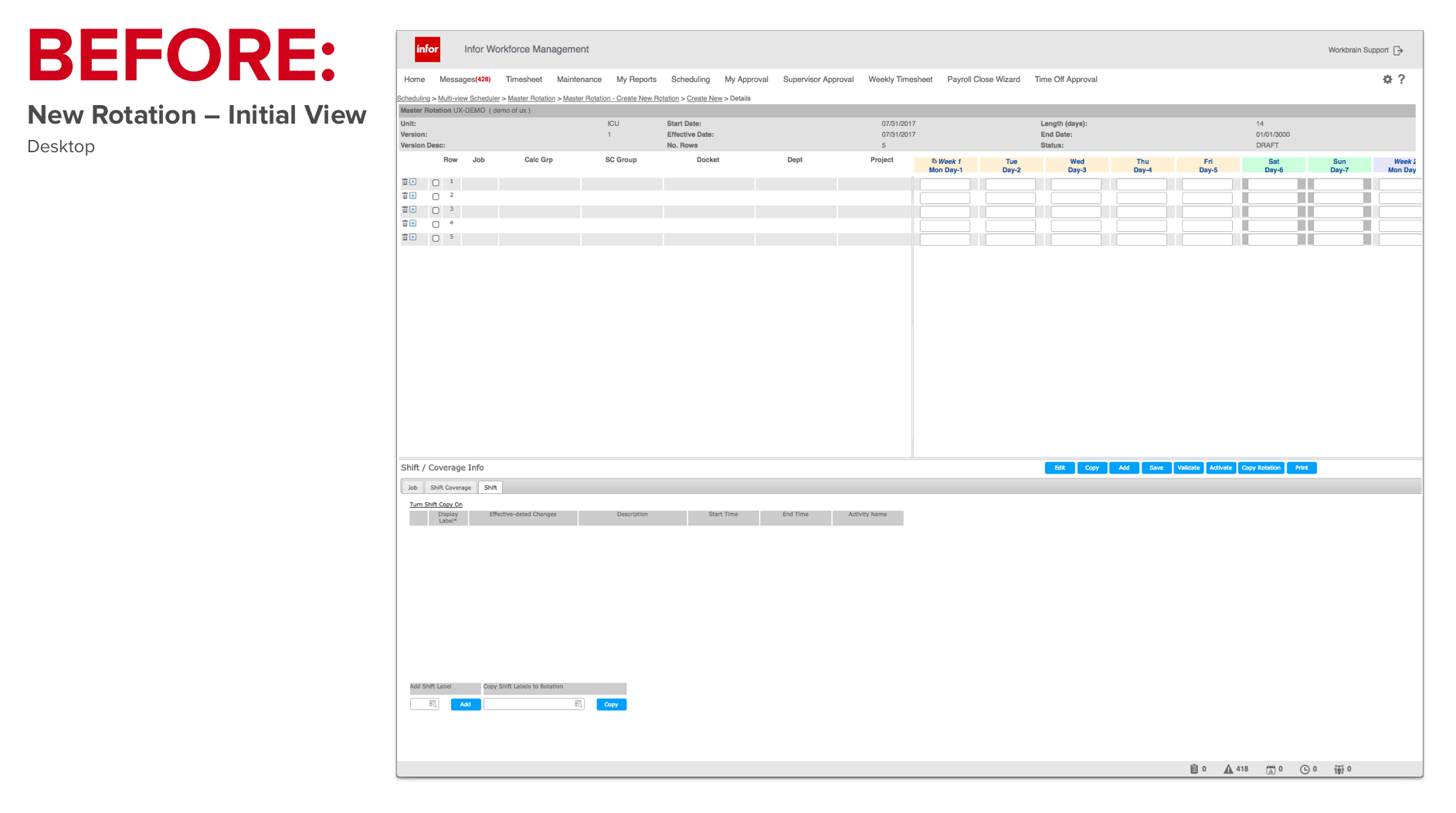 Process
I served as a Senior UX Designer, and the rest of our team consisted of a UX researcher, UX designer, and UX team lead. We were initially brought in for the discovery phase. As a first step in the design process, my team conducted a series of contextual interviews where we asked users to describe their roles and responsibilities, and how their organization manages scheduling. We then watched and listened as they demonstrated how they use their installed version of MVS, and followed up with questions regarding how they would go about completing certain tasks.
Concurrent with user interviews, we administered a heuristic evaluation. Each observed usability problem was explained in reference to an established usability principle; as a result, it was not difficult to generate dilemmas. It was a good method for finding both major and minor problems in MVS.
Finally, a competitive analysis was conducted that yielded two benefits: it provided the team with greater clarity and insight on market conditions and user experiences, and it helped reveal how similar products are marketed and structured to identify and acknowledge existing problems that frustrate end users.
While we worked on our deliverables for the discovery phase, we collaborated with product managers, developers, business analysts, and solutions consultants.
Outcomes
We presented our work to the product team, reviewed our methodology and findings, and discussed key insights and recommendations. The product team loved the work and wanted to continue collaborating with us. As a result, we worked an additional month on the structure of the content and on the visual design.
While our work with the product team was wonderful, we did experience some push-back from one particular client. And, as we all know, the customer is always right. So at the product team's request, we modified our designs to accommodate the client's specifications. Ultimately, the design did not fully align with our original recommendations. Nevertheless, the product team appreciated our process and deliverables.